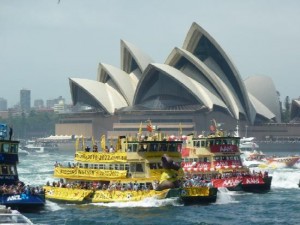 Sydney is considered the most multicultural city in Australia as well as in the world. It is located on Australia's east coast and is the state capital of New South Wales. Being the most populated city in Australia and Oceania (having approximately four million people), it encompasses one of the world's largest natural harbours. People who live in Sydney are called "Sydneysiders". Its large and dynamic economy has a highly skilled and multi-lingual workforce that leads a quality lifestyle.
Things To Do In Sydney
This harbor city is not only diverse, but is full of energy as well. The cultural scene is lively and fun. The Sydney Opera House offers much cultural variety in the form of the Australian Opera, Sydney Symphony Orchestra, Australian Chamber Orchestra, Australian Ballet and the Sydney Theatre Company. The exciting events of the year include the Mardi Gras and the New Years Eve Fireworks.
Skyscrapers overlook calm waters and the green headlands of national parks and city suburbs. The World Heritage Blue Mountains stand to one side of the inland and the spectacular sundrenched beaches run endlessly from north to south – there exists more than 240 kilometres of shoreline. The coastal beaches of Bondi, Bronte, Coogee and Palm Beach are some of the ones that travellers can choose to visit, many of them having spectacular sea cliffs in view as well. A bushwalk through the Sydney Harbour National Park is an adventure in itself.
Sydney Harbour is like an aquatic playground for its residents – glistening with a vibrant blue color on sunny days, and filled with sailing boats, cruise boats, and ferries galore. National parks, World Heritage sites, rich Aboriginal heritage and early colonial history are all there to behold. The Woolloomooloo finger wharf has many opportunities for a rich dining experience, while theatre and dance can be experienced near Walsh Bay.
Surry Hills, Kings Cross, Glebe, Newtown, Balmain, Manly, Hunter Valley, and Watsons Bay – they all have something special and unique to offer to everyone. The wineries, beer gardens, restaurants, and day spas of Sydney are enticing and relaxing as well.
Sydney has many man-made wonders too, apart from its natural assets. The public transport system makes it easy to navigate through the city. Sydney's temperature ranges from 16 C in the winters to 26 C in the summers. The month of November is spring in Australia.
Being one of the world's most loved cities, Sydney is buzzing with oomph. Thus, apart from being irresistible, it's undoubtedly the ultimate summer destination.
Car Hire Sydney
Sydney is a big city, so having your own transportation is a must. It is important to use only reputed services such as those from Right Car Hire, as they provide the best rates from leading car rental brands (such as Avis and National) for your trip to Sydney. Book your rental and enjoy peace of mind today!