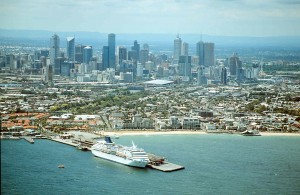 Melbourne is the capital of the state of Victoria. It is the most populous city of Victoria and the second most in the whole of Australia. A melting pot of cultures, Melbourne is a traveller's delight. Urban art, culture, sports, style, and dining amalgamate magnificently to form a perfect destination spot that caters to every traveller's desires. A diverse city, one is spoiled for choice.
Things To Do In Melbourne
Places to start off one's visit include Federation Square, the iconic MCG, St. Kilda, the Royal Botanic Gardens, and Brunswick Street. The Mornington Peninsula and Penguin Parade on Phillip Island are a good choice for day trips. Other places to see are Great Ocean Road and Twelve Apostles, Thermal Spas of Hepburn Springs, the wineries of the Yarra Valley, Snowfields in Victoria's High Country, and Healesville Sanctuary, where Australia's unique native animals can be found.
The Australian Open Tennis Championships, Melbourne Cup Carnival, Spring Racing Carnival, Australian Grand Prix, cricket matches, and football games are electrifying events to look forward to.
A plethora of interesting boutiques, late-night jazz bars, restaurants, cafes, bistros, and other wondrous eateries abound, offering a dizzying spread of exquisite delicacies. A range of fare all the way from high-end dining to delicious pub burgers is available at your fingertips.
With its maze of secret gothic laneways and rooftops, Melbourne is mysterious and inviting. The laneways hold treasures even many locals don't know of. One can find quirky souvenirs and artifacts, venues for food, as well as locally designed fashionable wear. Unlocking the city's real secrets is a total pleasure as you follow your nose travelling through the cobblestoned laneways in these distinctive streets of Melbourne.
A range of Opera, Broadway shows, contemporary dance, and comedy satisfy entertainment lovers. Art lovers can lap up the art scene by visiting museums, galleries, public art spaces, and other art venues scattered throughout the city.
The public transport system – with its trams, buses, and trains – makes it easy to get around the city and its suburbs. Public hire bike services also exist to allow you even more independence and freedom to travel. Cycling the bayside is another option, which is calming and peaceful as well.
With Melbourne considered to be one of the safest cities in the world, you will feel secure and welcome even while browsing the attractions at night. Friendly locals and a multicultural milieu ensure that you feel completely at home in this traveller's paradise.
Car Hire Melbourne
The best way to get around the city is by using a car hire from Right Car Hire, as it offers the best prices from the world leaders in car rentals (such as Avis and Hertz). You need to simple choose your type of vehicle and book your dates to get started!