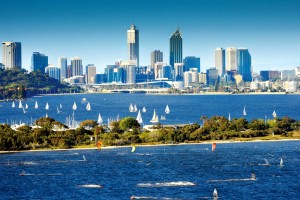 Perth is the capital of the state of Western Australia (WA). It is its largest city as well as the fourth most populous one in Australia, with almost two million people living in Greater Perth alone. Known as Australia's sunniest capital city, not only can you view amazing sunsets in the backdrop of the ocean here, you can expect warm and beautiful weather the whole year through.
The raw, natural environment of Perth seamlessly blends in with the urban milieu, making Perth the perfect getaway for your much planned-for Western Australian experience. You'll find hep wine bars, vivid green parks, sparkling skyscrapers, friendly neighbourhoods, and vintage architecture all coexisting in perfect harmony. With a constant influx of new attractions, restaurants, shops and cultural spaces, Perth is continuously evolving to meet the divergent tastes and needs of its visitors. The city is constantly on the move, with a red-hot passion that begs to be explored.
Things to do in Perth
Kings Park is a treat to see, being one of the world's biggest inner city parks. Visiting spectacular wineries (including the forty vineyards in the Swan Valley), relaxing on sparkling white beaches, swimming with wild dolphins, sailing down the shimmering blue Swan River past parks and skyscrapers, and making a trip to the Perth Zoo are just a few of the examples of activities that make visiting Perth an experience you will never forget.
On Cottlesloe Beach, you can feel an almost magical aura surround you while sipping a relaxing drink. Rottnest Island's secluded bays offer many opportunities to swim, bike, and catch rock lobster. You can hit up Northbridge's affordable eateries and trendy bars, indulge in Indian Ocean seafood, or check out the inner-city enclaves which play live music as well.
As Perth is situated on Western Australia's Coral Coast, it boasts of coral reefs, fishing townships, and huge national parks. Fresh crayfish can be relished up north in Geraldton, as well as juicy tropical fruits in Carnarvon. Magnificent whale sharks can be observed on Ningaloo Reef and picturesque views of seasonal wildflowers in their brightest hues can be viewed all along the coastline. A large number of splendid "pink lakes" make Western Australia their home. One of these is Lake Hillier, located on Middle Island which forms part of the Recherche Archipelago near Esperance.
Places to visit include Cape Range National Park, Monkey Mia, Shark Bay World Heritage Area, Cape Range, Kalbarri National Park, the historic Fremantle, the Pinnacles, and the goldfields of the state's south-west.
Car Hire Perth
Moving around the city is much easier if you hire a rental car in Perth. Right Car Hire offers the best rates from the world's leading car rental agencies, thereby making sure you are in the best possible hands.