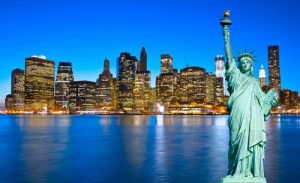 The United States of America, a country known for its diverse culture, Hollywood movies and glamorous cities like Las Vegas. Every year a lot of people visit the US in order to fulfill their American dream. America has a lot of beautiful places that one can visit and in order to move around the country and visit these beautiful places, you need a vehicle. If you don't have a car of your own, then there is nothing to worry about because at Right Car Hire, we can help you find affordable rental cars around your area. It helps you compare different cars being offered by different rental companies so that you can find a car that is affordable and meets your needs. You can compare rental car companies from more than 30000 locations around the world. We help you find stylish and excellent quality cars from renowned automobile companies and that too in an affordable price range.
America is a large country with 50 states and other small territories. It is a diverse country that has something for everyone. The American culture is a combination of different cultures from all over the world which makes it unique in itself.
Its culture is not the only beauty America beholds. One of the natural beauties in America is the Niagara Falls. It is a combination of three waterfalls which divide Canada and USA. The falling of water with such intensity is a very soothing site for people who love nature. Another amazing place to visit in the US is the symbol of freedom and liberty i.e. The Statue of Liberty. It was a gift from France to the US in 1886. It holds an emotional meaning in the hearts of American citizens. It also represents the friendship between USA and France.
One of the most glamorous places in the United States is the Las Vegas strip. It has a large number of casinos, restaurants and hotels. If you have plans of visiting the US, Las Vegas is one place you have to visit. People forget about their worries and enjoy the careless Vegas life which has made the phrase "What happens in Vegas stays in Vegas" famous.
Mount Rushmore is a piece of art carved on a granite mountain. It symbolizes the importance of prosperity and development in America. It also acts as an example for the current leaders of America to stay honest and work for the development of USA. There are thousands of other places that have made America such an amazing country. You have to talk about Hollywood when you are talking about America. American movies and actors are loved all over the world; their movies earn a lot of money even in places outside the USA. This is why their film industry is so successful. The big Hollywood sign on Mount Lee is a landmark in its own. If you are in America you should definitely visit the glamorous city of Hollywood.
One of world's most famous squares, Time square is also situated in America. It has a large number of restaurants and other attractions which make it a very busy tourist spot. As mentioned earlier, USA has something for everyone if you are an adventurous person, then you can park your rented car and have an amazing adventurous visit to the Grand Canyon. You don't even have to return the car back from the state you rented it. You can find such offers on our website that give you the service of leaving the car at a rental car stand in the state you are in.