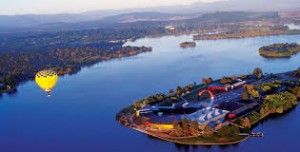 Canberra is the capital of Australia, its largest inland city, and its eighth-largest city overall. A resident of Canberra is popularly called a "Canberran". American architect Walter Burley Griffin designed the city after the land was bought in 1911. The city has a rich cultural heritage and boasts of impressive architecture and huge green spaces with over twelve million trees and counting.
Things to do in Canberra
A treasure trove of historic townships, scenic wonders, breathtaking coasts and the amazing Snowy Mountains, even all the time in the world may still not be enough to soak it all in.
The city's national museums and attractions are jam packed with anecdotes of Canberra's – as well as Australia's – history. The portrayal of Canberra – through its artists, music, movies, books, and exhibitions – gives a feel of Australia's character.
Hills on one side, and greenland on the other, make Canberra an ideal location for bushwalking, cycling, and skiing. National Parks within the Canberra region are aplenty and worth a trip to.
The Government House, Parliament House, Old Parliament House, the National Gallery of Australia, and the Australian National Botanic Gardens are all government-related entities that prove to be an enriching visiting option. Culture and history abound, along with an energetic entertainment milieu that includes a plethora of theatres and cinemas.
The artificial Lake Burley Griffin provides a sense of serenity. Off of Northbourne Avenue, there exist the main shopping areas, banks, post offices, and bus terminals. Commonwealth Avenue, Constitution Avenue, and Kings Avenue are popular tourist attractions. A hot air balloon flight is an exciting and fun way of viewing Canberra from the sky, and can often be booked online. You are spoiled for choice when it comes to accommodation – five-star international hotels, luxurious resorts, waterfront apartments, family-friendly motels, bed and breakfasts, fun backpacker hostels, and campsites are some of the popular places to put up for the night and are all at your fingertips.
Freshwater swimming holes, sightseeing bike tours on cycle paths, and visits to the Botanic Gardens are activities to think of doing. The food and wine trails on the Atherton Tablelands are a treat for the palate.
A lively nightlife promises much fun and entertainment. Whether relishing local seafood at an exquisite restaurant, rocking the dance floor, grooving to sick beats, or hitting the bar for exotic drinks – you will find yourself in seventh heaven.
Car Hire Canberra
Whether for business or pleasure, Canberra fits your fancy. Help yourself get around the city more easily by renting a car. With Right Car Hire, you get the lowest possible rates from all of the leading names in car rental. Book your car today to make certain that you have transportation arranged for your entire trip. No matter what your interests are, you can be sure Canberra has something special in store for you!