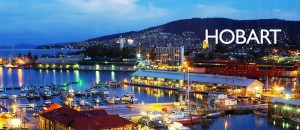 Hobart is the capital of the Australian island state of Tasmania. Founded in 1804, Hobart is Australia's second oldest capital city after Sydney. The Derwent River's entrance is where this city is situated, with ample bushland spreading near the center of the city and vast beaches surrounding the majestic river beyond. A visual treat for the eyes is in store for everyone, with its wondrous waterways, tall mountains, and beautiful scenery. Many instances of modern architecture meet heritage sandstone in this city of contrasts.
The Mt Wellington foothills cradle the city of Hobart in a setting of immense beauty. A heady mix of rich culture, breathtaking scenery, old-world charm, hot attractions, and a modern lifestyle makes Hobart as interestingly diverse as can be and, thus, a visitor's dream.
Things to do in Hobart
Salamanca Place is a good place to start, as its galleries (such as the Tasmanian Museum and Art Gallery), theatres, and craft shops have something to offer every layman and connoisseur alike. You can also get on a ferry and travel up river to MONA for a different kind of modern art experience altogether. Battery Point (near the waterfront) has lots of historic houses that date back to the first European development of 'Hobart Town'.
The world's best chefs congregate to whip up the most delicious fare in award-winning restaurants that offer a gamut of dishes using the highest quality Tasmanian produce to satisfy every gastronomical desire. Additionally, fresh seafood straight from the Southern Ocean can be procured and had on Hobart's iconic waterfront.
Unique restaurants housed in 1830s Georgian warehouses make eating a special experience. Elizabeth Street in bohemian North Hobart is famous for offering a plethora of flavors from across the world. The city's pubs have an enormous range of beers to try out. Saturdays bring forth an abundance of food and entertainment at Salamanca market, undoubtedly Australia's most popular outdoor market.
Festival time brings out the best in the city, transforming its atmosphere from a quiet buzzing calm to a feverish excitement.
Visiting Hobart has added benefits due to its proximity to a number of southern Tasmania's best destinations (such as Port Arthur, Tasman Peninsula, Bruny Island, the Huon and Derwent Valleys, and Mount Field National Park).
The peak of Mount Wellington offers splendid views of the city and harbour, as well as of the World Heritage Area seen afar. The nearby Mt Nelson Signal Station is a good option as well.
Once a reticent city with a backwards economy, no attractions, and nowhere to go after 8pm, Hobart has drastically transformed. Now, Hobart's future looks bright, with tourism on the upswing and new-found self-confidence permeating the old town. With a spring in its steps, Hobart is poised for unprecedented growth.
Car Hire Hobart
By far, the best way to discover Hobart and Tasmania is by renting a car. Right Car Hire provides car hire at the best possible rates from the leading car rental companies. You can easily find the perfect vehicle for your needs without any hassles.