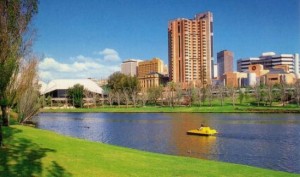 Adelaide, the capital city of South Australia and the fifth-largest city in Australia, is a wonderland just waiting to be explored. It was founded by Colonel Light in 1836. Considered to be South Australia's elegant and cultured capital, its elements of colonial elegance, vast parklands, historic buildings, wide streets, busy markets, and informative museums and libraries combine to create a splendid cocktail of activities to partake in.
And, speaking of cocktails, Adelaide is also the origin of some of Australia's best wines. Red wines from the Coonawarra on the Limestone Coast and the Barossa, Rieslings from the Clare Valley, white wines from the Adelaide Hills – all wait to be experienced. Paired up with pubs in Rundle Street and exquisite family-run cafes and restaurants, it's a heady mix that contributes to the ultimate dining experience. Norwood Parade, Gouger Street, Chinatown, and the Adelaide Central Market are crammed with a plethora of restaurants. The diverse cultural environment ensures that the food satisfies every taste bud.
Things to do in Adelaide
A happening town, exciting events like the Adelaide Festival, Adelaide Fringe Festival, WOMADelaide, Santos Tour Down Under, and Clipsal 500 Adelaide V8 car race can be looked forward to. Parties galore take place regularly, particularly during Mad March when weather is at its prime, and event season is in full swing.
The hills towards the east and the beaches towards the west surround Adelaide with nature's beauty in all its forms. Moving from one location to another is a breeze – the airport is a short seven kilometres from the main city while the Adelaide Hills and major beaches are under thirty minutes away by car. It is no wonder Adelaide is also known as the "20 minute city" by the one million people who inhabit it.
Glenelg, Hahndorf, and other picturesque villages in the Adelaide Hills are lovely destinations. Kangaroo Island is considered a must-visit locale, with its shimmering beaches, exquisite wildlife, and beautiful sunsets.
Moderate temperatures the year around with pristine blue skies guarantee that an enjoyable time can be had at any time of the year. When it gets hot, though, up to 40°C can be expected.
Accommodation is a plenty. You can find boutique hotels, apartments, seaside resorts and heritage cottages to suit your tastes and preferences. Although mostly found in the city centre, North Adelaide and the coastal area also have a number of hotels, motels, and bed and breakfasts to choose from.
Car Hire Adelaide
You can hire a rental car to check out the beaches or visit the Adelaide Hills to unwind. Moving about Adelaide with a rental car gives you a lot of mobility. Right Car Hire has the best rates from all the leading car hire companies and is the perfect choice for your Australian vacation.