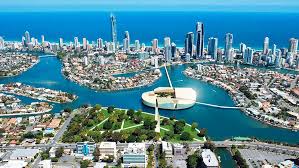 Cairns, the sixteenth largest city in Australia, is located in the 'Sunshine State' of Far North Queensland and was founded in 1876. The city was named after William Wellington Cairns, the then Governor of Queensland. Having a population of more than 140,000 people, Cairns is a popular destination due to its unique amalgamation of ecological elements combined with its vivid urbane environment. It is one of the most culturally diverse cities of Australia, having a strong immigrant profile and being home to over 150,000 people from around the world.
The Savannah lands of the Australian Outback are to the west and the frontier wilderness of Cape York is to the north. The World Heritage listed sites known as The Great Barrier Reef and the Daintree Rainforest are in the vicinity – just inside of thirty minutes away. In fact, Cairns is widely known as the city where the Great Barrier Reef meets the Wet Tropics Rainforest.
Things to do in Cairns
The city is a safe destination, having an exciting energy while also being easy to navigate. Expenses are affordable, the people are nice, and seasonal work is readily available. The temperature is hot and humid during the summers and mild and dry during the winters, ranging from a minimum of 17°C and a maximum of 33°C. Between January and March, the wet season occurs, whereas the dry season is from April to December. The dry season has mostly warm and sunny days with sparkling clear blue skies.
A breathtaking array of sights and sounds permeates through every part of Cairns, thereby accentuating its magnificence. The warm waters of Trinity Bay cradle this city elegantly. Sporting events, festivals, and more than six hundred tours a day fully take advantage of the city's amazing tropical culture. Time seems to stand still as one swims at the Esplanade lagoon or travels around the marina. The local produce at the farmer's market is an interesting sight to see as well.
Full of life and energy, the people of Cairns contribute to its enthusiastic and optimistic reputation. Their friendly and helpful nature makes them a pleasure to be around. A lot of the people you meet are either on a holiday themselves or are employed within the tourism industry, so there is a holiday spirit in the air all year around. Moreover, a considerable number of visitors are so impressed with the city that they end up making it their permanent home, further contributing to its diverse, multicultural aura.
Car Hire Cairns
To see the entire natural beauty of Cairns, one must travel slightly outside of the city. For this purpose – as well as for driving inside the city – a car hire in Cairns is the most pragmatic idea. Use Right Car Hire today to avail of the lowest rates as well as get the most prestigious brands in car rentals.