There are lots of amazing tourist attractions in Europe that attracts millions of people annually including the Eiffel Tower, Westminster Abbey, Vatican Museum, London Eye and much more. Nothing can be more frustration like waiting in long line for hours for access into a popular sight. As a smart traveler who would like to skip this mob scene, you should plan ahead. Here are a few tips on how to avoid lines and crowds when visiting top tourist attractions especially during peak periods
CHOOSE THE PERFECT TIME
In many cities around the world, some tourist attractions tend to be closed in particular days of the week. Any major sight that's open when others are not functioning will definitely attract much crowd. For instance, most museums in Paris are usually not open to the public on Tuesdays, that's the more reason you'll find much crowd when you visit sights like Versailles. The best thing to do when planning to visit popular sights during high seasons is to arrive early when most people are still lazing on their bed or go late when most tourists are set to go for dinner. During this time, you can experience a more relaxed tour around the sight with little or no crowd. Visiting during the day makes you either wait in long lines or find out that tickets are sold out.
BOOKING AHEAD OF TIME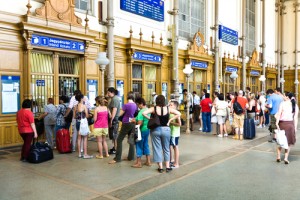 Most popular sights are usually crowded, all day long, all year round. Fortunately, these sights offer tourists the chance to make reservations ahead of time guaranteeing admission at certain periods of time. These tickets are also sold at discounted rated, which means you save more. While most people are standing in long lines, those who have made reservations ahead of time are offered easy access into the sights whenever they show up. Buying your tickets online or in souvenir stands in advance helps you avoid the long lines. As soon as you're ready to commit to a certain date, make the reservations and you'll be glad you did
SIGHTSEEING PASSES AND COMBO-TICKETS
Popular destinations around the world offer a citywide sightseeing pass. Most of these deals include free or discounted entrance to some of the attractions in the city as well as free use of public transit for a particular period of time. Sightseeing passes and combo tickets can save you a lot of time and money. When you compare the individual admission fees for these sights with the price of the pass, then you'll find out that these passes are cheaper. Passes also allow you avoid long ticket-buying lines especially in high season. You don't have to wait with everyone else, walk straight to the entrance and wave your pass.