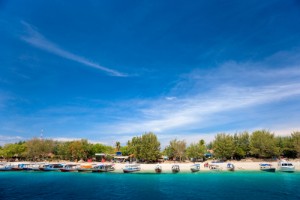 Located on the northwest coast of Lombok in Indonesia, the three strikingly beautiful Gili Islands – Gili Air, Gili Meno, and Gili Trawangan – feature lots of pristine white sand beaches, making it a top tourist attractions for tourists and budget travelers the world all over. Renowned for its serenity, tranquility and affordability, the Gilis are a prefect alternative to Bali for those looking for a quieter vacation as they offer great beaches and delicious seafood. It is considered one of the most popular vacation spots for Australians as the islands are just perfect for relaxation and lazing in the sun. Of the three, Gili Meno is the smallest and considered a perfect destination for honeymooners due to its secluded atmosphere. Gili Trawangan is recognized for its vibrant nightlife with plenty of entertainment venues, bars and restaurants. Gili Air is the quietest of all and offers great beach activities including diving for visitors of all types.
How to get to Gili Islands from Australia
Australians, in particular have a love affair with the Gili Islands due to its charming beauty, pristine beaches and serene atmosphere. If you are planning on visiting Bali from anywhere in the world, particularly Australia, there are several airlines that offer flights to Denpasar, the capital city of Bali. International Ngurah Rai Airport in Denpasar, Bali serves millions of travelers annually and the increasing numbers of tourists has doubled the number of direct flights to Bali from different parts of the world including Sydney, Perth, Melbourne, Munich etc. Some of the airlines that offers direct flight from Bali to Australia include Jetstar, Virgin Australia, and Garuda. The major gateway of getting into Gili Islands for international travelers is International Ngurah Rai Airport in Denpasar, Bali. The fastest and most popular way of getting to the Gili Islands is by the reputable fast boats either from Bali or Lombok. Visitors will find lots of reputable companies offering quality, reliable fast boats services to the Gili Islands. Depending on your starting point, the Gili Islands is only 5 – 25 minutes boat trip from Lombok and about one hour 30 minutes – 2 hours from Bali.
Money saving tips
Every traveler is looking for the best way to save money, spend less and experience the most remarkable moments while on a vacation. One of the cost effective ways of getting around and enjoying the natural beauty and stunning landscape of the islands is by renting a bike. There is also tons of street stalls selling delectable food at affordable rates. It is advisable to eat here and get up close with local culture rather than visiting the luxurious restaurants.
Best time to go to the Gili Islands
Featuring a temperate climate, the Gili Islands is a great vacation destination for everyone including solo travelers, families, honeymoon or groups. The best time of the year to visit the Gili Islands is from June to August considered the peak season. This period also features the most pleasant climate in the Gili Islands, thus making it a perfect time to vacation here. If you love scuba diving, then you should consider visiting from May to September, but it is also possible to dive all year round.
Things to do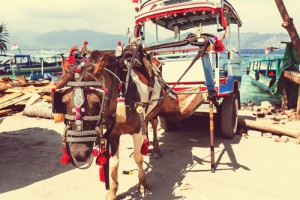 Though these islands may be small but there are tons of fun filled activities for visitors of all ages. Here is a list of some of the top things to do while vacationing in the Gili Islands
Diving- one of the most popular activities at the Gilis is diving. It is considered very suitable for everyone including amateurs and experts because of the great water condition offering good visibility and mild currents. The best time of the year for diving is from May to September. Here you will find a wide range of beautiful diving spots ranging from leisurely to challenging including Gili T's Deep Turbo, Gili Air's Hans Reef, or Halik Reef, off the coast of Gili T.
Snorkeling.  If you really don't like diving, then you can try out snorkeling, which is best enjoyed on the north eastern coast of Gili T. Here you will find plenty of beautiful marine creatures including turtles.
Great sunset views.  Another fun thing to do while on a holiday in the Gilis is watching the sunset. The highest view point, located on a hill on the southern end of Gili Trawangan offers an excellent view extending towards Bali and Lombok. It is among the most spectacular spots to catch stunning views and snap pictures of the sunset on the island.
Visit Gili Meno's bird park.  Take a trip to Gili Meno's bird park for a chance to see colorful birds living in a natural habitat. Some of the birds to find here include peafowls, eagles, pelicans and much more.
Surfing.  The southern region of Gili Trawangan is one of the best spots for surfing as you will find hundreds of surfers here. The waves are just perfect and it also offers great wind throughout the year. There are lessons for surfers of all levels making it a perfect place for beginners as well.
Relax on the beaches.  The Gili Islands offers some of the most beautiful beaches in the world where visitors can lounge and laze in the sun. One of the reasons why most tourists visit the Gili Islands is to have a feel of the relaxing beach life the islands have to offer. Clear waters, white sands, pleasant climate and several water sport activities – all these make the Gili Islands beaches one of the most popular attractions for unwinding and getting some sun.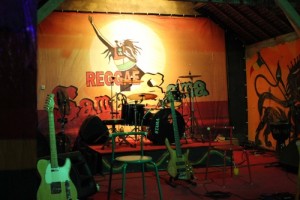 Experience great nightlife.  Gili Trawangan is recognized as the party islands where visitors can party all night long. Gili T is home to a handful of local bars serving great tasting drinks and organizing party nights. The most popular Full Moon parties which attracts thousands of revelers are held on the beaches.
Plan a day trip to Lombok.  If you haven't visited Lombok, then now is the best time to spend some valuable time on this islands. The islands which has close proximity to the Gili Islands is easily accessible by fast boats. Lombok offers several fun filled activities for visitors such as surfing, trekking and attractions.