Melbourne is considered the heart of Australia and also one of the "world's most livable cities" by popular demand. Melbourne is the capital and unarguably the most populous city in the Australian state of Victoria and the second most populous city in Australia and Oceania. Located on a coastal plain in Port Phillip Bay, Melbourne consists of an orderly grid of streets where the state parliament, banks, multinational corporations and splendid buildings attributed to Queen Victoria's era now stands. A visit will enable you to experience the stunning vistas, and myriad of attractions on a road tour through the diverse and beautiful landscapes of Melbourne and beyond. One of the best ways of exploring the great attractions in your convenience in Melbourne by opting for a cheap car hire.
Why go
Thriving Markets: Melbourne is home to plenty of shopping opportunities and markets where a variety of items and souvenirs are sold. The expansive Queen Victoria Market (the Vic) is home to several hundreds of stores and shops where visitors can find lots of items to satisfy their needs. Other places of interest for shopaholics include Prahran Market and St. Kilda's Sunday market.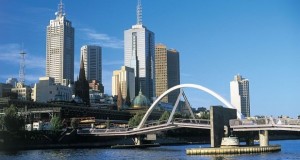 Sizzling Nightlife: Revelers are sure to have an extremely delightful moment while vacationing in Melbourne. Some of the best night life spots in Melbourne are located in King Street and Flinders Lanes, where you will find plenty of pubs, bars and vibrant clubs. For a chance to enjoy the best of live music performance, you should consider visiting the notable pubs scattered all over Fitzroy, Collingwood and Brunswick.
Delicious International Cuisines: Melbourne offers one of the finest dining experience in Australia, as it houses several top restaurants serving delectable cuisine to guests. The Chinese restaurants located in Little Bourke Street is one of the best places to enjoy lovely Chinese food and it will give any restaurant in Hong Kong a run for its money, without an iota of doubt. Richmond's Victoria Street convincingly replicates the mouthwatering cuisines offered in Vietnam.
Sports Arena: Sports happen to be a uniting factor in Melbourne where people from different backgrounds converge to share a common love. Melbournians, like Aussies in general do love great sport activities. The Melbourne Cup horse race and the Australian Rules Football are one of the sport events that draws thousands of people to Melbourne annually.
When to Go to Melbourne
Melbourne enjoys a temperate climate all year round though there are times where the climate is either extremely cold or extremely hot. Melbourne is at its best in autumn, and it considered the best time of the year to explore its many parks for chance to see magnificent greenery.
Melbourne has good road networks that enables a fascinating road tour around the city's beautiful sceneries. With a good cheap car rental Melbourne, you can travel drive around and appreciate the beauty of Melbourne, enjoy good food and tasty wine, sample outstanding local produce, regional cuisine on an adventurous drive through the forests and rolling vineyards, deserts and historic towns. Choose your own adventure while exploring all Melbourne has to offer in your cheap car rental Melbourne.