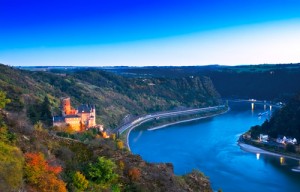 The Rhine is considered the most important waterways and one of the most magnificent rivers in Europe. Rhine Valley is renowned as an area of fascinating beauty that attracts hundreds of thousands of tourists annually. Due to the fact that this mighty river flows through this outstanding place, a large part of the Rhine Valley has been proclaimed a World Heritage Site by UNESCO. A visit to Germany's Rhine Valley offers every visitor the chance to experience a wide range of river excursions, long distance trails and bike routes. Here is a list of places worth visiting
Plan your trip to one of the beautiful museums of Mainz. Located on the west bank of the Rhine, Mainz, which is sometimes referred to as the old cathedral city, is one of the best places to explore in this wonderful region. There are plenty of outstanding museums where you can find beautiful display of great architectural works including the Museum of Ancient Navigation, the Gutenberg Museum, the Roman-Germanic Central Museum and much more.
Located on the west bank of the Rhine, the cathedral city of Worms is one Germany's oldest towns. Here you'll find the spectacular 11th-century Cathedral of St. Peter. The old building of the cathedral, features four towers and twin dome. Other must-see building in Worm's Marktplatz include St. Magnus' Church and the Trinity Church.
Nestled in center of the UNESCO World Heritage section of the Rhine Valley, Braubach is one of the most beautiful towns in the region. At the heart of the town is the Schloss Marksburg, a castle built in the year 1117. Featuring the great wall, a four story chapel tower and batteries of old canons, this is the only castle to have survived the intact in the Rhine Valley. To fully explore this castle, you will have to spend a couple of hours
Are you visiting Germany either for leisure or business? The best place for you is Rhine Valley. If you are looking to visit any of the lovely places listed above, it best to hire a car in Rhine Valley using Car Hire Nation, one of the most reliable car rental services you will find in the world today. You will be offered the most affordable rates ever as compared to other car rental service. Make your reservations with Car Hire Nations today and experience a stress-free mode of transport.