New York City is the most densely populated urban area on the face of the planet with over 8 million people. Regarded as one of the most frequented travel destinations, New York attracts over 40 million people each year. With its mild weather conditions all year round, tourists can enjoy their stay regardless of the season. New York is home to some of the most fascinating attractions in the world such as the Brooklyn Bridge, Statue of Liberty, Empire State Building and much more. There is a lot to do and see in this beautiful city.
EMPIRE STATE BUILDING
The Empire State Building is one of the most visited tourist attractions in New York City. Constructed in the year 1931, the Empire State Building is renowned as tallest building in New York and the world's 15th tallest building. With unique designs, the building is definitely a must see for those who admire great architectural works. At night, the building's floodlight illuminates the skies, making it a beautiful sight to behold. It is one of the iconic landmarks in the country.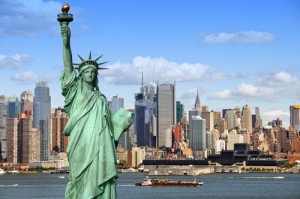 STATUE OF LIBERTY
Located on Liberty Island, the Statue of Liberty is a magnificent piece that signifies the hopes and dreams of the people of America. The statue holds in her arms a symbolic torch and tablet with the date, 4 July 1776 inscribed in roman numerals. Towering about 93m high Lady Liberty Lady Liberty has a total weight of 204 tonnes. It is the most visited tourist attraction in the country, drawing over 15,000 tourists daily. For a chance to have a close range view of the statue, you will have to take a boat trip from Battery State Park to Liberty Island. Your trip to this beautiful city would be considered incomplete without seeing the Statue of Liberty
BROOKLYN BRIDGE
Considered the longest bridge in the country, the Brooklyn Bridge is a must-visit sight in New York. Renowned for being the world's largest bridge stretching over 6000 feet, the bridge is designed by John Augustus Roebling, world famous architect. Walking or driving along the Brooklyn Bridge offers stunning views, especially at night when its lights are turned on to illuminate the night skies. Some of the lovely places you can see while on the bridge include the Empire State Building and the Woolworth Building.
Car rental is the least expensive way of exploring New York City, especially with family and friends. Be sure to make reservations with Car Hire Nation, one of the leading car rentals in the country. You are surely going to feel difference while on the road and exploring some of these lovely attractions with any of our affordable car rentals.