The World Airport Awards happens to be a grand exhibit of class and masterfully using airports for happier customers. It is an annual global airport customer satisfaction survey, which is based on over 13 million customers who make nominations and are from across 112 nationalities. These frequent air travelers and even the not so frequent ones are given the chance to decide on which airport best does justice to being an airport, and the survey is inclusive of 550 airports worldwide. Here are the top 5 airports across the world in the light of these awards: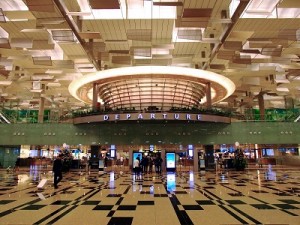 Number One: The Changi Airport
Changi Airport located in Singapore takes great pride in being named as the World's Best Airport by air travelers. This happened in 2015 at the World Airport Awards and did not come as a surprise for many. It has been so for the third consecutive year; this airport exceeds everything that you ever expected out of an airport, much like Singapore itself the airport is a grand interpretation of a whole different culture laced with technology.
Presently, Changi is going through yet another number of changes, these significant development projects are inclusive of Terminal 4 and the much anticipated Jewel Changi Airport. This means that Changi is once again going to redefine airport experiences, with state of the art facilities and a great many features, this airport is just the kind you would want to get stuck at as your flight is postponed for hours.  There waits a Cozy waiting lounge for you, now located right where the Terminal 1's open-air car park was. In case you have been to the place, you will find the Jewel Changi Airport is now loaded with even better facilities and has everything from passenger lounges to check-in counters. The complex is soon to be linked with three terminals, to give you a great flying experience and a warm welcome to Singapore!
Number Two: Incheon International Airport
Incheon International Airport happens to be the largest airport located in the South of Korea and has the significance of being one of the busiest ever. What makes this airport an absolutely fantastic one is its theater, yes the airport has two theaters that operate from 9 am to 11 pm.  Have a flight to catch? Here is one reason to make it to the airport before time.
Number Three: Munich Airport
This one is packed with a little over 150 retail stores, and is heaven if you want to make a one-stop travelling, you can shop and eat from over 50 places right at the airport. There is a lot for the travelers and visitors to see, and the airport acts as the city center, the whole city comes to welcome you as you get off at Munich.
Number Four: Hong Kong International Airport
The Hong Kong International Airport is one of the world's busiest with over 100 flights to 180 locations a day, and 44 locations on their neighboring country China's mainland.
Number Five: Tokyo International Airport (Haneda)
This airport has an international and a domestic terminal much like all other airports, but laden with technology and all kinds of vending machines this airport is just your gateway to the world's technology capital. Japan has much more to offer than sushi; this tourism oriented country is not only a great place to experience the new but also a great place to witness the mind blowing.