The search for celebrating your love and your big day is the most important task and also daunting one. The venue forms the signature of your theme, style and type of wedding ceremony, making it obvious to keep a theme in mind before you start your search for the perfect place.
Sydney is a home to beautiful and extravagant wedding venues. Outdoor weddings are very popular in Sydney where the Sun shines throughout the year and the atmosphere is bright and energetic. The Sun shining over the harbor and many national parks and gardens make the perfect setting for an outdoor celebration of your important day. We have listed below some mixed suggestions for wedding venues in Sydney ranging from regal, traditional or vintage and rustic.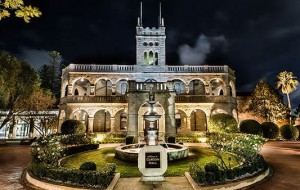 1. Curzon Hall
If you have always dreamt of getting married in a castle like the royal families do, Curzon hall is the place for you. This property which is listed in Australia's heritage provides three developed gardens for wedding ceremonies with stylish and well equipped rooms. This property has an occupancy of 500 people and is a perfect destination for regal theme weddings and is a treat for the wedding photographers to depict the old world charm.
2. Miramare Gardens
The Huge Miramare Gardens with capacity of 500 people caters to the need of people who want a lavish outdoor wedding of a modern style. The garden is specifically landscaped with water features which can be used to set up a marquee. The venue also has tall ceiling reception rooms which can host a classy event.
3. WaterView Bicentennial Park
Waterview Bicentennial Park with a capacity of 1000 people is your venue if you want to get married with nature in the backdrop. The vast parks and lakes and scenery in the vicinity is like a cherry on the cake for your function. You may have seen many wedding videos from this venue where the photographers use the waterbody and greenery for enhancing pictures.
4. Oatlands House
Oatlands house is a home style estate best suited for a smaller wedding function. With a capacity of 200-300 people, this property is influenced with French architecture and designs which take you back in the glorious time of French history. This venue is perfect for a country style outdoor wedding with a rustic theme.
5. Sydney College of Arts
To give your wedding a classic colonial touch, the Sydney College of Arts which is located in the inner west part of Sydney is very well suited. The historic sandstone buildings and the walkways with heritage trees give a classic romantic theme to your wedding.
6. Panorama House
Panorama house, has a small capacity of 100 on the garden and 400 in the rooms and is a stunning location with the water view of Pacific Ocean and South Coast. The venue is one hour away from Sydney and has a gorgeous gazebo and seating in garden style. This venue is perfect for elite weddings with style and comfort.
Apart from these, the Bendooley estate, Dunbar House, Bradleys Head etc. are some of the garden style venues where you can entertain your guests in a way closer to nature making your wedding memorable.